IPO News Desk
Mid-Sized Investment Banks Hold Their Own In Slow Market
The slowdown in this year's IPO market is reflected in most statistical categories, and deal size is no exception. The average aggregate offer amount for 2016's completed IPOs is just $170.7 million, which is $10 million less than last year. If the average does not improve by the end of the year, it will be the lowest annual average deal size since 2005. Most annual averages in that 12-year stretch were well over $200 million, with 2008 recording the highest at $552 million.
One reason for the smaller average is that this year's market has seen very few large offerings. Thirty-six of the 66 IPOs to date have generated between $50 million to $250 million in proceeds. Only two 2016 IPOs have topped $1 billion in aggregate proceeds, and they just barely passed that mark. MGM Growth Properties raised $1.05 billion in its April 19th deal, and US Foods Holding's May 25th offering netted the company $1.02 billion. By comparison, in 2014 nine new issuers raised more than $1 billion in their public market debuts.
On the low end of the scale, there have been two new issuers so far in 2016 that raised under $10 million (Monster Digital and Global Water Resources), and seven whose aggregate proceeds fell between $10 million and $25 million. Another nine IPO companies raised between $25 million to $50 million in proceeds. Issuers that have raised under $50 million account for 27% of 2016's IPO total. Last year, 22% of the market came in below $50 million in offering proceeds, and in 2014 that total was 18.5%.
Aggregate IPO Offer Amount
2010—Present
(*Data through August 26, 2016)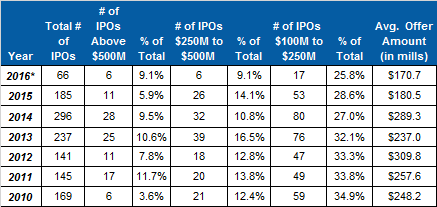 IPO Vital Signs Subscribers see,
#430. Offer Amount
Small and Mid-Sized Investment Banks – Traditionally, when there are fewer IPOs getting done, most of the underwriting business goes to the ten largest investment banks. Mid-sized and smaller underwriters tend to flourish when there are many new issues and plenty of work to go around. While the bulge bracket investment banks certainly have claimed the lion's share of 2016 deals, there has been more activity by mid-sized banks. Companies conducting smaller IPOs are often turning to smaller underwriters to help them to market.
Year-to-date, 44 banks have completed at least one IPO lead manager assignment. Half of those served as first lead manager on two or more deals. The top four lead managers in 2016 – Goldman Sachs, JPMorgan, Morgan Stanley and Bank of America – are perennial leaders in the industry. Goldman Sachs tops the list with 16 pricings through August 26th, with JPMorgan and Morgan Stanley close behind at 14 each. Bank of America has served as lead manager of 12 new issues so far this year.
The fifth busiest investment bank this year is Jefferies, which is not among the ten largest underwriters by market cap, but puts up solid lead manager numbers every year. In the past five years, the bank's lowest annual tally of lead underwriter assignments was 14 in 2012. Its busiest year was 2014 when it served as lead manager on 36 IPOs.
Cowen and Co. is also having a strong year with eight completed lead manager assignments. The bank worked on 15 competed deals last year and 14 in 2014. Its 2016 total currently places it in a tie with bulge-bracket underwriter Citigroup.
Other mid-sized banks that, like Jefferies and Cowen, have reached double digits in IPOs in most recent years are Piper Jaffray, Leerink Partners, RBC Capital and Stifel Nicolaus. Piper Jaffray and Leerink have made a respectable showing this year with five and four lead manager assignments, respectively. RBC Capital has led three deals so far, lagging behind its 2015 pace when it worked in 17 IPOs for the year. Stifel Nicolaus is off to an even slower start this year with just one completed lead manager assignment through mid-August. The bank totaled nine in 2015, and 19 the year before that.
Canaccord Genuity, a smaller bank, has already exceeded its performance in recent years. The underwriter's three completed lead manager assignments in 2016 are more than its annual tally in any of the past ten years. Similarly, Northland Securities has led two IPOs so far this year, matching its best-ever annual total (2014). Northland did not serve as lead underwriter on any deals last year.
Not all the news is good for smaller investment banks. A number of smaller institutions have been noticeably absent from 2016's IPO market. These underwriters, which include Aegis Capital, Robert W. Baird and SunTrust Robinson Humphrey, have maintained a steady presence in the IPO market in each of the past three years. Other banks in a similar position include Guggenheim, HSBC, Ladenburg Thalmann, Needham and Oppenheimer.
Lead Manager Assignments
2012—Present
(*Data through August 26, 2016)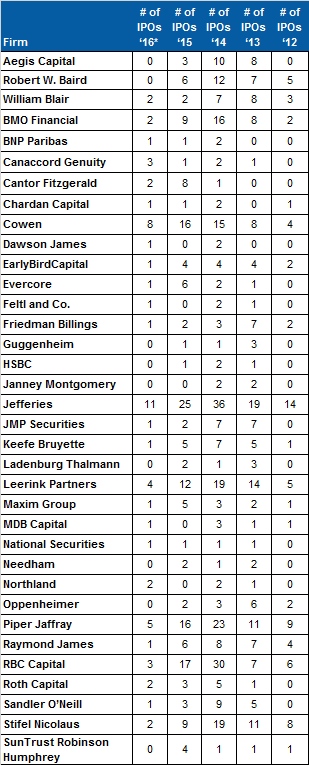 IPO Vital Signs Subscribers see,
#175. IPO Lead Managers