IPO News Desk
First Day Trading, Aftermarket Reflect Subdued Investor Interest
There were many positive signs in the IPO market in May, including a sharp uptick in deals during the month. Of 2016's 30 new issues as of May 20th, 37% (11 IPOs) were completed in the first few weeks of May. In addition, investor interest in IPOs appeared to be on the rise as three of May's new issuers—SiteOne Landscape Supply, Acacia Communications, and Intellia Therapeutics—posted the best first-day gains of any deals this year. However, a closer look at first-day trading numbers and aftermarket performance suggests that the market still has a ways to go to shake the months-long malaise.
First Day Movement – In general, IPOs completed between January 1st and May 20th have gotten off to a slow start, with only 13 of the 30 stocks gaining value on their first trading day. Of those 13, three rose less than 1% on launch. Four of the year's IPO companies saw their shares remain flat on initial trading day, and the others for which data is available lost value on the first day.
The top first-day gainer in 2016 is SiteOne Landscape Supply, whose shares jumped 27% on its first trading day. Massachusetts' Acacia Communications secured second best first day performance to date with its 23.7% increase in share value. Gene editing treatment developer Intellia Therapeutics posted the third largest gain by climbing 22.8% from $18 to $22.10 on its initial trading day. At +20.5%, American Renal Associates Holdings enjoyed the fourth largest first-day gain of the year so far.
These gains pale in comparison to some of the impressive IPO debuts over the past few years. In 2015, five companies more than doubled in value on their first day with Seres Therapeutics leading the way at +185.6%. In 2016, no deal has generated intense investor interest so far, but no IPO stock has fallen very far on its first day either. Protestasis Therapeutics dropped 17% of its value in its February 10th offering, but no other new issuer has fallen 10% or more on its first trading day. Two of the companies that posted first-day losses, Midland States Bancorp and Hutchison China MediTech, fell less than 1%.
2016 Top Ten IPO First Day Pricing Gains
(IPOs First Trading from 1/1/16 to 5/20/16)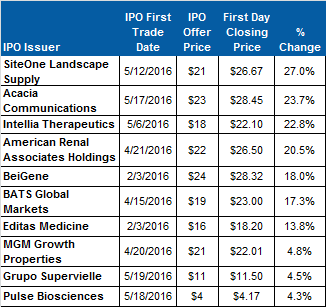 IPO Vital Signs Subscribers see,
#290. IPO First Day Pricing Statistics
Aftermarket Performance – Historically, a 15% gain in aftermarket trading is considered a solid performance by an IPO stock. This year only nine new issuers have managed a value increase of 15% or more in the aftermarket. Three of those companies began trading in May, so their values could still fluctuate significantly as they continue to get established in the public market.
The good news is that a number of IPO companies have enjoyed a steady rise in value since going public. Most notably, Proteostasis Therapeutics started with a 17% drop on its first day but is now trading 92.5% above its $8 IPO price. Since posting a 13.8% gain in its February debut, Editas Medicine has continued to climb in aftermarket trading and is the year's top performing IPO through May 26th. The company's shares are up 121.2%, making it one of only two IPOs this year whose value has more than doubled. The other such issuer is AveXis, whose shares are up 106.9% so far this year.
Overall, 19 of the 30 companies that made their market debuts this year have increased in value since they began trading. Since gaining 27% on its first trading day, SiteOne Landscape Supply has added another 5% in value in the ensuing two weeks. Intellia Therapeutics has fared better, building on its 22.8% first day rise to reach +61.1% as of May 26th. The shares of Global Water Resources also have been heading in the right direction. After remaining flat in their April 28th debut, they are selling at 19.2% above the $6.25 IPO price.
Of all IPO companies that have priced this year, enzyme-based therapeutics developer Aeglea BioTherapeutics has seen the most precipitous decline in value. The company's shares have dropped 25.5% since its market debut at the beginning of April.
2016 Top IPO Aftermarket Performance
(IPOs First Trading from 1/1/16 to 5/20/16)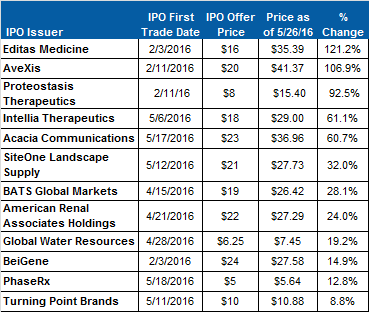 IPO Vital Signs Subscribers see,
#293. IPO Lead Managers Aftermarket Performance