IPO News Desk
Priced to Sell: Pricing Weakness Leaves Room for Gains
Ferrari's IPO was greeted with a great deal of fanfare, but in the end the car maker's shares only rose 5.8% in first-day trading. While not a terrible opening, expectations were higher for a company with Ferrari's name recognition. One reason for the slight first-day gain is that the company priced its shares at $52, the second highest initial price for an IPO this year. Arguably, there was less room for appreciation of the stock's value given the high starting point.
IPO Pricing - Ferrari's high per share price was within the stated range, which makes it somewhat unusual among recent IPOs. Since the start of September, 61.5% of companies that have gone public have priced below the minimum of their stated price range. Only two deals in that period priced above the maximum stated filing price.
Recent weakness in pricing follows a slowdown brought on by volatility in the stock market in August. With the increase in deals priced below the stated range, the year-to-date total of pricings below the minimum filing price has risen to 30.5% of all IPOs. That falls short of 2014, when 36.5% of IPOs priced below the minimum of the stated range, but is more than 2013's 26.6% total.
Only four companies have gone public this year at a per share price in excess of $40, and all four are non-U.S. issuers. The highest IPO sale price this year was $68.56 per share for Celyad S.A. in June. Ferrari's $52 price tag was the second highest, followed by Galapagos N.V. ($42.05) and Cellectis S.A. ($41.50). Celyad dropped 20.4% on its first trading day, and Cellectis's shares fell 5.3%. Galapagos fared the best, posting a 20.1% gain at the end of its first trading day.
Final IPO Pricing
v.
Initial Filing Price Range



*Data through October 20, 2015
Data excludes IPOs for which filing range was not available.
IPO Vital Signs Subscribers see,
#446. Final Pricing v. Initial Filing Price Range
First Day Movement - In general, IPOs completed between January 1st and October 22nd have started off well, with 92 new issues having gained at least 1% in value on their first trading day. Seven of the year's IPO companies saw their shares remain flat on initial trading day, while the shares of 36 issuers lost value on the first day.
The top first-day gainer in 2015 is Seres Therapeutics, whose shares jumped 185.6% on their first trading day. Aduro Biotech posted the second largest gain by climbing 147.1% from $17 to $42 on its initial trading day. At +118.6%, Shake Shack enjoyed the third largest first-day gain of the year so far. Spark Therapeutics and Global Blood Therapeutics are the only other new issuers whose shares at least doubled in value on their first day. Shares of Axovant Sciences came close, enjoying a 99.3% first-day gain.
Companies whose shares dropped in value on the initial trading day have not fared too badly, with only 13 having fallen 10% or more. The largest first-day loss was a 27.4% drop by vTv Therapeutics in July. Bellerophon Therapeutics' shares dropped 25.3% on their initial trading day, while shares of Sunrun fell 23.1%.
2015 Top Ten IPO First Day Pricing Gains
(IPOs First Trading from 1/1/15 to 10/22/15)


IPO Vital Signs Subscribers see,
#290. IPO First Day Pricing Statistics
Post First-Day Performance - Since its impressive first-day gain, Seres Therapeutics has slid backwards, posting a 59.6% gain through October 22nd. The year's top performing IPO through that date is Spark Therapeutics, whose shares have risen 156.3%. Global Blood Therapeutics (+125.3%) and ShakeShack (+104.2%) are the only other companies whose share value has more than doubled. Overall, 48 companies that have made their market debuts this year have increased at least 1% in value since they began trading.
Despite getting off to the second fastest start of the year, shares of Aduro Biotech have headed in the wrong direction. After a 147% first-day gain, Aduro's shares traded 38.4% above the IPO price as of October 22nd. On the other side of the spectrum is Inotek Pharmaceuticals, whose shares finished their first day (February 18th) with no gain, but as of October 22nd had risen 64.74% above their debut price.
Of all of the IPO companies that have debuted this year, Bellerophon Therapeutics and Zosano Pharma have struggled the most in aftermarket trading. The largest loss so far this year is Bellerophon's 75.7% drop in share price. Zosano's shares have fared only slightly better, dropping 73.8% since their January 27th debut.
Top IPO Aftermarket Performance
(IPOs First Trading from 1/1/15 to 10/22/15
at Last Trade Date of 10/22/15)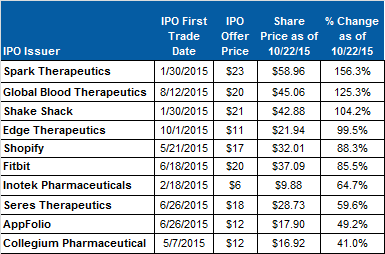 IPO Vital Signs Subscribers see,
#299. IPO Aftermarket Performance by SIC Code